Sittwe port now operational connecting Kolkata with Myanmar
India is making an all-out attempt to complete pending connectivity projects with the strategically located Myanmar, which shares its border with four northeastern states — Arunachal Pradesh, Nagaland, Manipur and Mizoram. External affairs minister S Jaishankar said India is keen to conclude the coastal shipping agreement with Myanmar by this year. India is not only looking at using the land routes to boost connectivity but leverage the waterways as well.
"Sittwe Port is operational, and we are hopeful to conclude the coastal shipping agreement (with Myanmar) this year," Jaishankar said, however adding that the border situation in the neighbouring country is challenging.
An Observer Research Foundation report earlier noted that there is "a lot of untapped potential for maritime exchange" such as cargo comprising natural gas, bulk cargo, and hub-and spoke cargo".
While the Sittwe port, part of the ambitious Kaladan Multi-Modal Transit Transport Project (KMTTP), connects Kolkata, it could hook up Tripura through the India Bangladesh Protocol (IBP) route.
The coastal shipping agreement signed in October 2020, is aimed at facilitating Indian ships to reach Mizoram using the Sittwe Port and the Kaladan river multi-modal link.
For Myanmar, besides Sittwe, Yangon is another key port handling the country's international seaborne trade. Other ports such as Pathein, Mawlamyine, and Myeik also handle international trade but on a smaller scale. The country's domestic trade is carried out primarily through Kyaukphyu, Thandwe and Dawei ports.
In October 2, 2014, the India–Myanmar Direct Shipping Service was launched by Shipping Corporation of India Limited (SCI) from Chennai. The service plied the Colombo–Chennai–Krishnapatnam–Yangon route, calling on the Chennai port once every fortnight. However, in 2016 the service aimed at boosting bilateral trade between India and Myanmar, was brought to a halt. The ORF report said that reviving this service will be beneficial for both countries.
"Visakhapatnam had good connectivity with Myanmar until about five years ago, when the latter was exporting a lot of timbre. However, currently there is no direct connectivity between Visakhapatnam Port and Myanmar," ORF noted.
Last month Jaishankar during his visit to Bangkok to attend the 12th meeting of the Mekong Ganga Cooperation (MGC) discussed issues posing challenges to the connectivity projects with his counterpart U Than Swe. The two ministers also agreed to expedite the existing projects.
Work on Kaladan project picks up steam
As part of the mega KMTTP, Sittwe will be connected with Paletwa, the westernmost town of Myanmar, through the inland waterways on the Kaladan river. Paletwa will then be connected via a 62 km road with Zorinpui in Mizoram. As per plan a 110 km road is also being constructed between Zorinpur and Aizawl. That apart, the rail network is being pushed as well.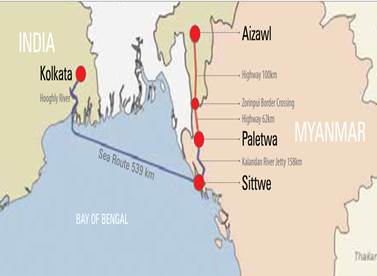 Foreign policy watchers noted that it is critical for India to complete the ongoing projects on time to ensure that New Delhi retains its pole position while countering China's moves.
Beijing has already pressed the pedal on execution of China-backed Kyaukphyu deep-sea port project in the Rakhine state is gaining momentum. According to Radio Free Asia, China is racing to complete the deep-sea port project, part of Beijing's Belt and Road Initiative, despite concerns from residents who rely on the area's waterways and say it will destroy their livelihoods.
Work on the China-Myanmar Economic Corridor (CMEC), a key infrastructure project under the BRI umbrella aimed at boosting connectivity between China and Myanmar, is also going on in full swing in the post-coup era.
Myanmar's main trading partners are China and Thailand. But India needs to up its game in Myanmar especially since any unstable situation in this neighbouring state would directly impact political and economic contours in the northeast.
For economic growth of both countries, it is key to leverage the 1,623 km land border and their 725-km maritime boundary between the neighbours.
Also read: India pushes for early completion of trilateral highway from northeast to Cambodia